The Four Best Features in the 2018 Nissan Maxima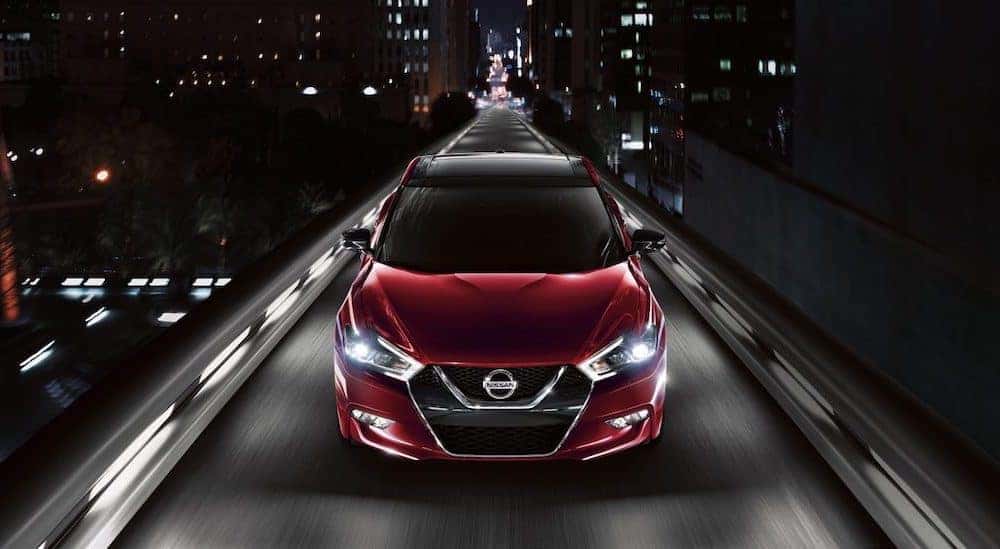 We're always told to not value a vehicle based on its flashy features and amenities. Pundits suggest you zero in on dependability, fuel-saving technologies, and safety functions. Sure, that might be true… but we also wouldn't blame you if you were a bit enticed by all of the features that are included in a targeted nameplate. Well, if you've been targeting the 2018 Nissan Maxima, you should be throwing away all that guilt. After all, the nameplate truly puts itself over the top thanks to all over those so-called "ancillary" features and amenities. In reality, these inclusions actually managed to take the luxury sedan to a whole new level. Below, we explored four of our favorite features that are included in the 2018 Nissan Maxima. That way, when you're prepared to start hunting around for a Nissan dealer in Orange Country, you'll understand why your targeted nameplate is actually the perfect choice.
Automatic Emergency Braking
You should always be focused on the road when you're operating a car, but we understand that distractions pop up. In those unexpected moments, a random object or person could suddenly cross your path. If you're not prepared, you're looking at a potentially devastating collision.
Fortunately, the 2018 Nissan Maxima has your back. Thanks to the Automatic Emergency Braking, your vehicle will be ready to cover for you when you don't have enough time to react to an impending hazard. Specifically, the unit monitors the distance between your Maxima and the vehicle in front of you, and the unit will alert the driver when they should be decelerating. If the driver doesn't react, the system can automatically apply the brakes, helping you to avoid or lessen the impending impact. The accompanying Intelligent Forward Collision Warning will play a similar role, as the technology monitors the speed of the vehicle that's two cars ahead of you.
Of course, engineers included a number of additional features that will also provide drivers with an extra set of eyes. The Blind Spot Warning system will be particularly useful when you're traveling at high speeds, as the unit can alert the driver when it's unsafe to switch lanes. Meanwhile, the Rear Cross Traffic Alert will notify the operator when a vehicle or object is about to cross behind the Maxima, thus allowing you to avoid those minor and pesky fender benders.
There's even an Intelligent Around View Monitor. This camera provides drivers with a 360-degree view of their ride, thus allowing them to monitor their surroundings at all times. The Front and Rear Sonar play a similar role, allowing drivers to maneuver precisely into a tight parking spot.
While we'd still suggest focusing all of your attention on the road, you can rest easy knowing that the 2018 Nissan Maxima adds another layer of protection.
Smartphone Compatibility
We all lead busy lives, and we're all guilty of glancing down at our cell phones when we're behind the wheel of a car. Predictably, this is very unsafe, and you're risking the well-being of you, your passengers, and those around you when you decide to check that text or missed call.
Fortunately, Nissan's engineers wanted drivers to stay connected at all times, and that's why they included the Apple CarPlay and Android Auto compatibility to their 2018 Nissan Maxima. Thanks to these inclusions, drivers can seamlessly connect their smartphone to the accompanying eight-inch touchscreen infotainment system, allowing them to access many of their phone's basic functions safely. This means you can send a text, make a phone call, or listen to your preferred playlists without having to glance down at your lap.
Predictably, these features only skim the surface of the technological amenities that are included in the 2018 Nissan Maxima. The Nissan Navigation System will help guide you to any destination, while the accompanying SiriusXM Travel Link will serve as your personal concierge, pointing our restaurants and points-of-interest along the way.
Want to jam out to your favorite tunes? Then you'll surely appreciate the Bose Audio System, which provides occupants with an unmatched listening experience. The unique Bose Centerpoint 2 Surround Technology will have you feeling like you're in a stadium, and the 11 speakers will allow all of your occupants to join in on the fun.
Climate-Controlled Front Seats
We all want to remain as comfortable as possible when traveling on a long road trip, but that isn't always realistic if your fellow passengers want different temperature settings. Everyone has different opinions on the interior temperature, leading to some "heated" arguments among the occupants.
Well, those disagreements will disappear when you're traveling in the 2018 Nisan Maxima. The Climate-Controlled Front Seats allow both occupants to sit in their ideal temperature setting, and they can opt for heated or cooling seats to really escape the elements. With the simple turn of a knob, you and your co-pilot will be able to find your ideal temperature settings.
Similar to the other features included on this list, the Climate-Controlled Front Seats aren't the only interior amenities included in the Maxima. Engineers have included several features that are intended to boost driver and passenger comfort and convenience. For instance, the Remote Engine Start System allows drivers to prepare their car from the comfort of their own house, and the accompanying intelligent Climate Control will adapt the interior temperature based on the outside conditions.
Meanwhile, the Zero Gravity Seat Boosters are an innovative inclusion. While they're intended to boost comfort, they're also supposed to reduce driver fatigue. Nissan also managed to maximize safety, assuring that you're traveling in the ideal seating position.
Active Noise Cancellation
If you've ever traveled in an older ride, you've surely been irritated when the wind or the engine noise distracts you from your radio. These outside sounds can cover the sounds coming from your interior speakers, essentially making them useless.
Well, Nissan has added many Active Noise Cancellation amenities, allowing you to appreciate the optimal listening experience. On all Bose audio-equipped variations of the nameplate, the vehicle includes acoustic laminated glass and an Active Sound Enhancement system. The car will actually monitor the noise that's emanating inside your interior, and it can adapt the interior acoustics to assure that you hear exactly what you intend to hear.
Well, if it wasn't clear before, it should be clear now: the 2018 Nissan Maxima absolutely screams "luxury" thanks to the various features and amenities. If you've decided that this particular nameplate is the perfect target, then you should be visiting a nearby Nissan dealer as soon as possible.
If you live in the Orange Country area, then there's no better place to purchase the car than Orange Coast Nissan in Costa Mesa, California. The dealership is stocked with hundreds and hundreds of new and used vehicles, and their competitive pricing and top-notch service make them a logical visit over competing dealerships.
Plus, the dealership can serve you before and after you've made a purchase. The finance department is in place to figure out any of your monetary obstacles, and they'll zero in on a payment plan that makes sense for you and the dealership. Meanwhile, the service department is present whenever your new Nissan runs into any mechanical issues.
If you want to see what the 2018 Nissan Maxima truly has to offer, then head out to Orange Coast Nissan today.