Nissan SUVs
While it seems impossible to believe, the start of yet another school year is right around the corner. We all know that summer flies by, and if you need to add car shopping on to your list of "to-do's" this summer, you can bank on the fact that you'll be back in the carpool lane before you can say "school's out!" Don't spend your precious summer days dealing with dealership after dealership, trying to find an SUV or Crossover that actually fits your families needs. Head on down and visit our team at Orange Coast Nissan and let our highly trained sales team walk you through our impressive selection of new and used Nissan SUVs and Crossovers. From the fun, funky and brand-new five-seater Nissan Kicks to the powerhouse eight-seater Nissan Armada, not only is there a Nissan out there for you – it's probably sitting on our lot right now!
About UsNew SUVsSpecial Offers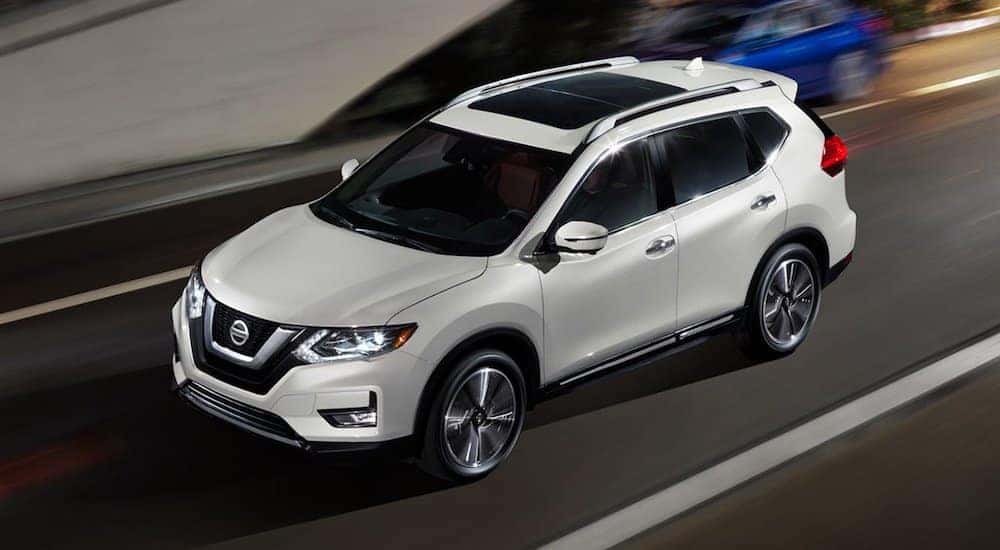 Our Sales Team Knows Their Stuff
Never pushy, always educated – that's how we describe our sales team at Orange Coast Nissan. No matter if you're looking for maximum fuel efficiency, superior safety or just an SUV with some sweet amenities, our sales team is eager to show you the best Nissan SUV to fit your lifestyle. For example, if you're looking for a cute little crossover to kick around in this summer, our sales team will certainly show you the new Nissan Kicks. With its impressive performance at the pump (think 31 miles per gallon in the city and 35 mpg on the highway), and it's nimble handling, the 2018 Nissan Kicks is perfect for taking your kids day tripping into the city for a little arts and culture.
Of course, if you tell our sales team that you need a slightly bigger SUV and prefer to drive a tried, true and tested SUV, they'll be sure to show you the Nissan Rogue Sport. Slightly larger than the Kicks and with a cargo hold designed to fit all of your belongings in specialized nooks and crannies (also known as the Divide-N-Hide System), the Nissan Rogue Sport has a family-friendly starting MSRP of just $22,110 and comes equipped with convenient technology features such as Bluetooth, satellite radio and Siri Eyes Free, so that you can stay connected to your family, even when you're on the go.
Don't let another dealership's aggressive sales team sell you a less-than-perfect SUV or Crossover simply so that they can rest easy knowing they've made their commission. Let our team at Orange Coast Nissan serve you and your family the only way we know how: with integrity, honesty and by focusing your needs and wants, not dollar sales and quick sells.
Financial Savvy for Frugal Spenders
If you're looking for an SUV or a Crossover, there's a good chance that you're looking for a bigger car to fit not just your family and friends in, but that you're also needing to carry equipment and gear for your hobbies – perhaps biking, kayaking… any number of activities require room to store the tools you need to get out and enjoy life to the fullest. As we all know, though, activities and hobbies often come with a price tag that can seem a little daunting. Don't throw your money away at a dealership that doesn't know the value of a dollar. At Orange Coast Nissan, we know that you work hard for your money so that you can spend it on the things you truly love to do, which is why our finance department is made up of a team of people who have the experience and the expertise to help you get the most bang for your buck when it comes time to buy your new SUV or Crossover.
For example, if you're in the market for one of America's Best Selling SUVs, the Nissan Rogue, our finance department will happily sit with you and work out if you're better off leasing, buying or buying a pre-owned Rogue. After all, you already know that thanks the Rogue's excellent fuel economy at 26 mpg in the city and 33 mpg on the highway, you'll be saving a few extra bucks at the pump – but why spend more if perhaps leasing will be more economical? No matter if you end up leasing, buying, or buying pre-owned, our team will work through all of the options with you and help you secure financing that you're comfortable with.
If you happen to find yourself in the enviable position of already being a Nissan SUV owner but think that maybe it's time to size up from the five-seater Rogue to the seven-seater Pathfinder, don't worry about having to sell your well-loved Rogue on Craigslist or through an ad in the paper. Simply bring it into Orange Coast Nissan, and we'll happily value your trade-in vehicle. In fact, if you're feeling antsy about getting into your upgraded ride as soon as possible, simply head over to our website and value your trade right online. You can even go one step further and apply for financing, right through our safe and secure website. Before you know it, your passengers will be enjoying tri-zone automatic air conditioning, and you'll be enjoying the Pathfinder's powerful 284 horsepower V6 engine – all at price that keep you (and your wallet) happy.
Serious Service Done Right
No matter if you're driving the sleek and streamlined Nissan Murano or the big and boxy Nissan Armada, it's a fact of vehicle-ownership that eventually you're going to need to service your car, truck or SUV. Oil changes, tire rotations, and fluid top-offs will keep your Nissan SUV or Crossover running smoothly and safely, so at Orange Coast Nissan, we go above and beyond to make sure that taking your car in for a service appointment is as seamless as possible. Our team of service technicians are highly trained and know that your time is valuable, so they work as efficiently as possible to keep your SUV in top form. That's also why we've made it possible to book your service appointment right online through our website, and it's why we offer extremely convenient hours. Our service center is open Monday through Friday from 7:00 AM to 6:30 PM and Saturdays from 7:00 AM to 5:00 PM.
The Nissan Murano is known for its finely tuned suspension and its agile handling, so don't let your dread of drawn-out service appointments lead you to neglect the SUVs truly astounding performance. Likewise, the Nissan Armada is loved for its ability to tow up to 8,500 pounds behind it, so be sure that stay on top of your scheduled service appointments, or else you might find yourself stranded on the side of the highway with a few jet skis or even a small boat hitched to your Armada, taunting you and your passengers as watch your day on the lake fade into a day at the closest mechanic.
Visit Orange Coast Nissan Today

It's easy to see that at Orange Coast Nissan, the only thing we love more than our fantastic selection of Nissan SUVs and Crossovers is our customers. Why not drop by and visit us at 2850 Harbor Boulevard in Costa Mesa and see for yourself why Orange Coast Nissan is the top-spot to shop for new, used or pre-owned SUVs and Crossovers? We're open Monday through Saturday from 9:00 AM to 8:00 PM and Sunday from 10:00 AM to 7:00 PM, and we are also available to chat over the phone simply by calling 714-966-9467.
We look forward to getting you and your family into the perfect Nissan SUV or Crossover soon!
Get In Touch