Nissan Trucks
There are about 700 muscles in the human body that are dedicated to the art of movement and strength, and yet that still isn't always enough for some of the more gritty jobs that life throws at us. This is why we at Orange Coast Nissan take pride in providing Nissan trucks to our community as a tool and ally for the jobs that you just can't push through alone.
Everyone needs help sometimes, and Nissan trucks were made to help you tackle any and all challenges. Together you and your heavy-weight helper will have all the brains and muscle you will ever need to be successful in whatever challenge in front of you.
About UsNew TrucksSpecial Offers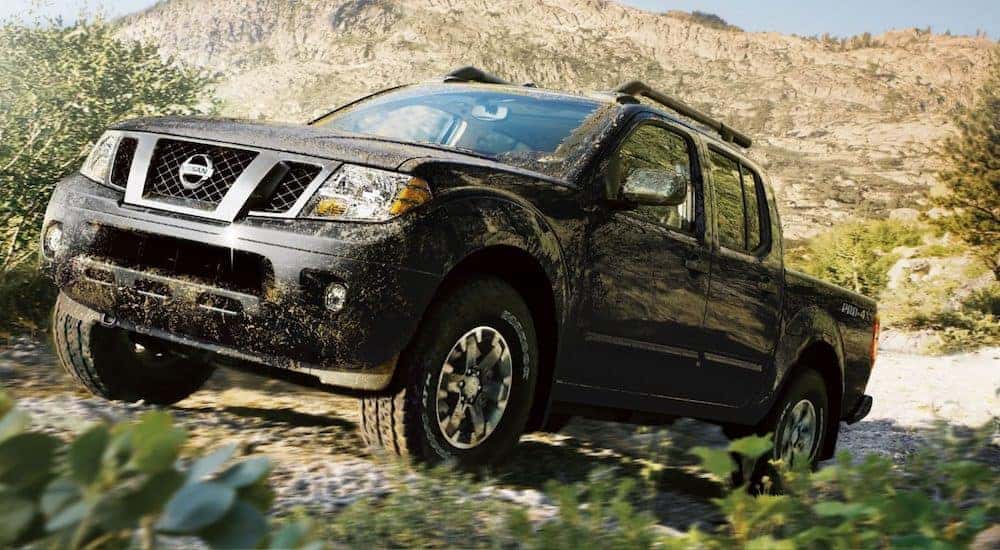 What Makes Up a Nissan Truck?
Where our muscles are made up of elastic tissue and fibers, Nissan trucks are made with high-grade metal and limitless passion. Clearly, Nissan trucks aren't just hunks of metal though, just like us they are made up of many parts and features that make them the heavyweight helpers they are today.
Engines
An engine is the heart of any automotive and Nissan trucks are no different. Nissan manufactures three different trucks that are on the current market today. Each of these trucks offers their own selection of powerful engines.
Nissan Frontier
2.5L 4-Cylinder engine (152 hp and 171 lb-ft of torque)
4.0L V6 engine ( 261 hp and 281 lb-ft of torque)
Nissan Titan
5.6L V8 (390 hp and 394 lb-ft of torque)
Nissan Titan XD
5.6L V8 (390 hp and 394 lb-ft of torque)
5.0L V8 diesel (310 hp and 555 lb-ft of torque)
Towing
Towing is what pickup trucks were born to do. Each of these Nissan trucks offers a different towing capacity due to their engines and towing technology.
The Nissan Frontier is the smallest of the group, but is by no means tiny measure 206-219″ L x 73″ W x 69-70″ H. This model at its best can tow 6,710 pounds without a problem. The actual towing technology for this model is light, but this can still be an excellent light-duty assistant.
The Nissan Titan a fair amount larger than the Frontier measuring 228-229″ L x 80-81″ W x 75-77″ H, and has the towing capacity to prove it. With 9,740 pounds of towing capability, the Nissan Titan lives up to its name as a god among gods. Innovative engineering has also given this beast a few extras tricks with tow-haul mode, rearview monitoring, sway control, remote trailer light check, and a durable hitch mount will have you ready to tow anytime and anywhere easily.
The Nissan Titan XD is pretty much a bigger and better version of the Nissan Titan, which is shockingly possible. Measuring 231-244″ L x 80-81″ W x 77-79″ H this heavy-duty truck can haul a massive 12,640 pounds with no help necessary. Add in the same towing tech that the original titan has, and you have yourself one of the toughest beasts on the road.
Brakes
Brakes, along with airbags, are the most essential safety feature any vehicle can contain. Larger vehicles like trucks that haul massive loads will especially need to have reliable brakes and braking systems in place to live up to the necessary safety standards. All three models of Nissan trucks offer anti-lock brakes and electronic brake force distribution. These will help you stay in perfect control of your steering during tough braking situations as well as send an extra braking force to the rear wheel automatically when it senses extra weight near the back. This brake will work brilliantly on both hills and slippery roads. The Nissan Titan and Titan XD ups the performance even more with massive 13.8″ front/13.6″ rear, 4-wheel ventilated disc brakes
Transmission
The transmission is what connects the engine to the wheels and allows your Nissan truck to handle smoothly. This part is especially essential considering how important it is to have to control while towing heavy loads as these trucks will be. The Nissan Frontier offers either a 5-speed automatic transmission or a 6-speed manual transmission for your handling needs. The Nissan Titan and Titan XD both offer a 7-speed automatic transmission, but the Titan XD also offers a 6 speed automatic.
How Can Nissan Trucks Help You?
The number of ways a pickup truck can be useful in your everyday life beyond count. With a Nissan truck, you will never fear for a moment when you just aren't prepared or strong enough to get the tough jobs done and done without hassle. Loving parent, devoted workaholic, or passionate adventurer, there is no type of person that can't use a little extra muscle in their life.
Work
At work, Nissan trucks are all business. From hauling tools of the trade to making that commanding and confident impression on those around you, a Nissan truck will always be an asset to your career. Here are a few features that make even make your professional life even more successful:
Pull down rear seat virtual workbench and center storage area
Navigation system
Bluetooth Smartphone connectivity with hands-free calling
USB ports
Family
Trucks, in general, are not seen as the first choice for a family vehicle, but with a Nissan truck with a Crew Cab design will not only be spacious enough for the whole family but also safer. Additionally, everyone will love you the second they need someone to move something large. You will also never have to worry about packing the car for a family trip, because Nissan trucks between the durable bed and massive towing capability will allow you to bring more then you could ever possibly need. Here are a few family-friendly features that will grab the attention of the whole family:
Snug Kid technology
Six standard airbags
Safety warnings for blind sports and rear traffic
SiriusXM Satellite Radio
Oversize cup holders
Adventure
Once you invest in a Nissan truck, your eyes will instantly be open to the amazing adventures the world has to offer. The confidence and passion of being behind the wheel of such a massive beast will make you feel like nothing can stop you, and with a Nissan truck, there won't be much that can. With Nissan's advanced Pro 4X technology your ride will be smooth on every terrain, while the luxurious features will keep you safe and comfortable as you journey to infinity and beyond. Not to mention you can bring all your fun toys like boats, trailers, and cycles with the massive towing potential. Here are a few features for the adventurous soul:
Emergency preparedness with automatic collision notification, emergency calling, and roadside assistance
Advanced drive-assist display and steering wheel controls
Heating and cooling seating
Intelligent climate control
Flat-fold rear seating
Locking cargo organizer

Why Us?
At Orange County Nissan we are determined to provide you with a vehicle that can truly assist you in life. Nissan trucks are some of the most intelligent and powerful vehicles on the market today, and we find that when you are at the wheel of one, there is nothing you can't accomplish. So whenever you are ready to invest in your own personal heavy-weight helper stop buy and we will find you the perfect fit for your lifestyle.
Get In Touch